In Between Time – Bijlmer Jail
In Between Time was performed in early 2018 in one of the vacant towers of the Bijlmerbajes. A journey through open-air spaces and cells where time seems to stand still. Five theater makers / asylum seekers from Tunisia, Syria, Iran, Sudan, Somalia and five makers from the Netherlands welcome you in the 'in between time', at the place where they start their new lives.
You will meet different makers on every floor in the Bijlmer tower. In an old prison cell you can experience genuine stories from very close by, the abandoned corridors come to life with poetic images and music. By dreaming out loud they create new memories and their lives start moving again.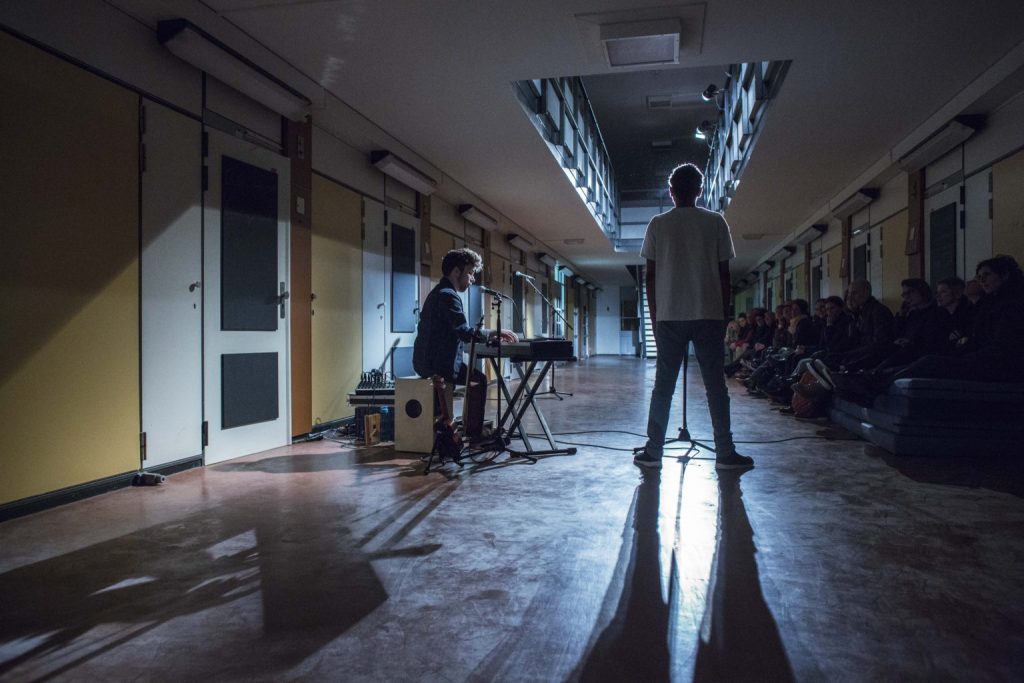 concept and artistic director: Titia Bouwmeester | artistic team: Achref Adhadhi, Sanne Verkaaik, Yazan Al Hakim, Felix Schellekens, Maryama Omar Abdi, Tiffany Vicario, Sofie Doeland, Farhad Vilkiji, Tim Hammer, Sinan Abusalah, Linda Bosch, Rutger Buiter, Naomi van der Linden | music coach: Ben Lammerts van Bueren | acting coach: Danielle van Vree | producer: Esther Lagendijk, Charlotte Verhoef (Stichting IJ Producties) | production: Aline de Jonge | licht design: Isabel Nielen | Technical team: Cis Rieken, Thijs Wijnands | communication: Marga van der Vlugt, Janine Driessen | photography: Marcel Molle.